Meet The Doctor
Introducing Dr. Austin Wang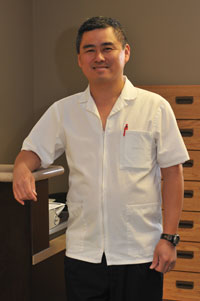 Dr. Austin Wang graduated from the University of Toronto's Faculty of Dentistry in 1990, and worked as an associate for six years before opening his own practice, Reid Street Dental in 1996.
Dr. Wang is a member of the Ontario Dental Association, and the International Straight Wire, Dr. Garcia Ortho Study Club. He enjoys all aspects of dentistry, including general and family dentistry and cosmetic dentistry. He also enjoys orthodontic work and is trained in Invisalign aligners. He continues to further his professional expertise through course work and study clubs.
Outside of regular office hours, Dr. Wang is part of Health Mission Outreach of Canada (www.hmocanada.org) . This is a charitable organization that holds free dental clinics in Southern Ontario and weeklong clinics in some third world countries. In his free time, Dr. Wang enjoys being outdoors and spending time with his three young children and wife Susy.
Introducing Dr. Anh Charlton
Dr. Anh Charlton graduated with honours from the University of Toronto's Faculty of Dentistry in 2014 and its Faculty of Pharmacy in 2005. While currently associating full time at Reid Street Dental, she also works in community pharmacy each month to stay current with new medications patients may be taking.
Making Dentistry her focus, Dr. Charlton enjoys helping patients requiring emergency treatment such as fixing chipped or broken teeth. Her favourite part of Reid Street Dental is the wonderful staff, and the close community feeling that comes from living and working in the same neighbourhood.
When she's not seeing patients as a dentist or pharmacist, Dr. Charlton stays busy taking her daughter to dance, swimming, soccer and lacrosse. Through these activities, she and her family have enjoyed meeting new friends and neighbours since making Peterborough their home.